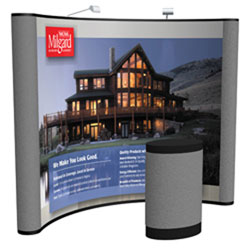 You know that we provide the best promotional items and finest service for your trade show events, but are you aware that we can also fulfill your trade show display needs? From signs and banners, custom floor mats and table throws to booths and displays, we do it all!
Plus, when you work with Leaderpromos on your trade show events you can:
Save Money: Yes, really. If you've ever shopped at Sam's Club or Costco, you know that you can save money when you buy in bulk. The same concept applies to our industry - more business you do with Leaderpromos, the more we can thank you by leveraging your overall spend to get deeper discounts and better deals on the items that you need.
Save Time: Why try to coordinate ordering promotional products and trade show display items from two different companies when you can work with one person who can do it all? Let us make it easy for you - by consolidating your trade show business with your account executive, we can save you time by taking care of everything, from ordering to delivery, all at once.
Work with an Expert - YOUR Expert: When you do business with Leaderpromos, you work with a person whose goal is to build a relationship with you, your organization, your brand and your purchasing history. So why start from scratch when you need trade show items? From branding to budget, your account executive already knows what you need - now get what you want by tapping into a trusted and established business relationship.
So don't wait - call your account executive or contact us to get started on your trade show today.
Looking for more trade show advice? Then check out our article, Get More From Trade Shows: Seven Tips, for additional ideas!