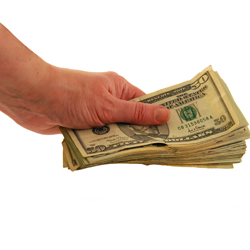 Would you like to save your organization tens, hundreds or even thousands of dollars a year? Here are five great reasons you should consolidate your promotional product spend with Leaderpromos.com.
1. Eliminate Multiple Vendors
There's a reason we use the phrase "your account executive" so much on our website. It's because when you do business with Leaderpromos.com, you work with an expert who will be your point person for anything that you need.
Our goal is to build a relationship with you, your organization, your brand and your purchasing history. We can provide new ideas and build upon past successes as we work together to learn about what promotional products your audience responds to. We want to function as an extension of your business, acting with your marketing goals in mind. Working with multiple vendors doesn't allow that type of mutual understanding, trust or communication.
We know you and you know us.
2. Save Money with Volume Discounts
Do you have a membership to Sam's Club or Costco? Then you know how much you can save when you purchase items you need in bulk quantities. The same concept applies to promotional products - by purchasing your advertising specialties from one company you will save money because we can leverage your spend to get deeper discounts and better deals on the items that you need.
3. Control Your Brand
When you partner with Leaderpromos.com, you know that all of your promotional products will fit your brand. Our in-house art department ensures that your brand standards are followed exactly. And as they become more familiar with your organization, they can help you be more creative by generating new artwork and decorating ideas.
4. Track Your Spending and More
We keep you up-to-date date on your sales activity and spend across all the departments and divisions in your organization. You can contact us at any time to track and assess your purchases.
5. Eliminate the Middle Man with Our In-House Solutions
For qualified clients, we offer the following services in-house:
Rapid Logo - Embroider your apparel to order! Low inventory requirements make this a cost-effective solution, while ensuring a ready supply of logo apparel.
Company Stores - a great way for your employees and customers to access your promotional products at any time without the hassle of maintaining in-house processing and inventory.
Experienced Global Sourcing to help you save on those big orders.
Expert Warehousing and Fulfillment - Easily control your promotional product delivery, quality and inventory.
Get started today! Call your account executive or contact us.