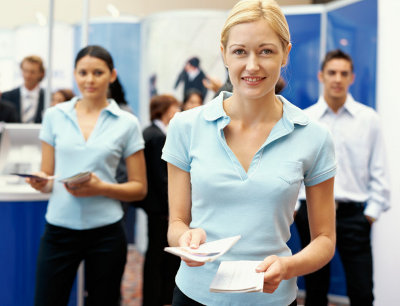 Trade shows can be an incredible way to advertise your business, network, find leads - and most importantly - make sales! However, attending a trade show also means that you're sharing the same space (and the same potential clients) with hundreds - maybe thousands - of your competitors.
Here are seven tips to help your company stand out from the crowd and get the best return on your investment.
1: What Is Your Goal? What are you hoping to get out of the trade show - do you want to want to sell a certain amount of product? Establish your brand as an industry leader? Launch a new item or initiative? One thing is for certain - you must be clear about what needs to be accomplished. Set your goals beforehand so you can measure your return on investment after the event.
2: Match Trade Shows to Your Prospective Client Base - You've heard the saying - "The customer is king." It's true. Choose trade shows that attract the types of people that you would aspire to have as clients. Don't be afraid to think outside of the box!
3: Plan Ahead - Once you've picked a trade show, start sending out invites to your current and potential clients. Ask the trade show organizers for a list of attendees so you can reach out to them by phone, mail or email before the show.
You'll also want to plan ahead so you can get all of your branded materials on time. Give yourself plenty of time to order, review and receive items such as banners, display materials, badge holders, trade show bags, promotional lanyards, branded apparel and brochures. Collaborate with your promotional product partner to make sure what you order aligns with your needs. Place your orders and confirm turnaround times so you're ready to go when your trade show starts.
4: Choose Your Booth Space Wisely - Find out everything you can about the trade show venue, what booth spaces are available and what the environment is like inside the room. Consider how the traffic will flow though the room, who your neighbors will be and what kind of amenities (exits, food courts, restrooms) you'll be near. Position your booth and your branded materials to best optimize your physical presence at the event.
5: Make Your Booth Welcoming - So, you've done your research and have taken the time to select the best trade show to attend. That's great - now you need to catch that audience's attention and keep it. Make your booth an inviting and interesting place your clients will want to visit. Professionally brand your booth with balloons, trade show giveaways, banners, signs and other items that would make someone want to approach you.
Also, set expectations with your team - no one wants to interact with company representatives who look bored, disengaged or sloppy. Make sure they're properly representing the company by dressing professionally (logoed apparel can make this easy on everyone), wearing name tags, engaging all of your visitors - and most importantly, smiling!
6: Pick The Right Promotional Product - So you got someone to come into your booth. Great! However, unless you're running a tattoo booth, you may not be remembered once they leave. Give them something to remember you by - a promotional product.
So, for example, if you are in the medical field, you should hand out branded hand sanitizers, right? Not necessarily. Sometimes the best promotional item isn't the obvious choice. Ensure that your company is remembered by choosing a promotional product that people want to keep and use. You certainly want to choose a product that reflects positively on your company, but don't feel that your choices are limited to what is "safe." Safe can be boring (or worse, just like everyone else) and no one will remember a company that doesn't stand out!
Don't be afraid to offer something fun (like our Mental Block game) or unique (like our Magic Diamond). Consider running a contest, running an icebreaker or having a second set of promotional products for strong leads that you want to impress. Be creative!
7: After the Show - Don't forget to follow up with all of your leads and say thank you. Show them that you care and that you want to be their business partner.
Consult with your teammates and browse our site for one-of-a-kind ideas to make your tradeshow trip adventure worth the investment. Feel free to contact us or ask your Leaderpromos.com account executive if you need some expert advice. Good luck!
Special thanks to our veteran tradeshow experts: Jim Dunn of Jim Dunn & Co. and Cory Schroepfer of Bridge Marketing Services for their contributions to this article.