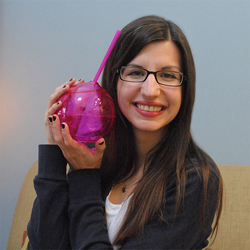 It's been awhile since our last promotional product test drive (where we reviewed some fabulous Bella + Canvas apparel), so when a bevy of 20 oz. Fiesta Ball Tumbler samples arrived at the office, I decided to take one for a spin.
Let's start by stating the obvious -- our spherical tumbler is completely worthless when it comes to cup holders. Which means unless you have a chauffeur, an extra pair of hands, or decide to hold it between your legs (not recommended), there's no way you're going to transport it in your vehicle without spilling something. So, if you're looking for a day-to-day piece of drinkware, stop reading this now and head on over to our Stainless Steel Travel Mugs section.
However, if you're looking for a conversation-starter that's unique and fun, then this may be the promotional product for you. Our orb is amusing, different and a complete interruption from the monotony of every other tumbler out there. It's just plain fun. It begs to be held. It makes folks stop and stare. It screams PARRR-TAY. (Even when it's just sitting on your desk.) And best of all, people want it. Badly.
Practical has its place, but sometimes, you don't need practical. You need something that makes a statement and makes people remember your brand. One does not buy [insert slightly silly, but hugely popular item here, like 7" designer stilettos or 100" plasma TVs] because they're pragmatic, one buys them because other people admire them, desire them and most of all, remember you. Our Fiesta Tumbler accomplishes this task on a smaller (and less expensive) scale.
So, if you want something that will grab attention for your brand, consider our Fiesta Ball Tumbler. Its fun and funky design will put the spotlight on your organization!