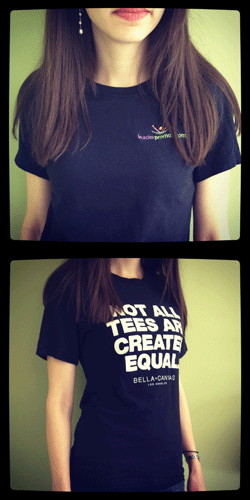 Let's just be honest - one of the perks of working for a promotional products company is free stuff. And every now and then, you hit the jackpot - or in my case, the t-shirt jackpot. I received both a Bella Ladies' Baby Rib Crew Neck T-Shirt and a Canvas Men's Unisex T-Shirt in my size. (We're practically swimming in shirts over here, so finding a shirt is nothing special, but finding one - or in my case, two - in the correct size is a miracle.)
They've quickly became my favorite t-shirts. Both fit very well (they hug and drape in the right places), both shirts (and their decorations) have held up through weekly washer and dryer runs, maintaining their quality and size and (most importantly), they're comfortable. I mean, really comfortable.
You would think after owning shirts like these I would question why they were so comfortable, but I didn't. I was content to enjoy them in ignorance until I went to the 2012 PPAI Show in Las Vegas. There, I had the opportunity to visit the Bella + Canvas booth, and I learned that there was actually a reason why my cotton t-shirts were my favorites - because they're made from 100% combed and ring-spun cotton.
Of course, to understand 100% combed and ring-spun cotton, you need to understand its polar opposite - carded open-end cotton. This type of cotton is created from open end spinning or yarn created without a spindle. It was a process developed in the 1960s that both reduced the labor needed to create yarn and increased productivity. Imagine a spinning clothing dryer full of sheets and then think about pulling out one of those sheets as they are moving. The cloth will spin together as you pull it out. This is the concept behind open-end spinning, the process creates threads quickly and easily, so that they can be sewn into fabric, and then, apparel. While this process produces quick and affordable clothing (a good thing), it also makes the apparel less comfortable, as the fabric is coarse (a not-so-good-thing).
In contrast, ring-spun cotton is created with ring spinning, which means the threads are secured at both ends and are consistently and evenly rotated, creating a smoother, finer and uniform yarn with a tight knit - therefore making it softer, more comfortable to the touch and more resilient to wear-and-tear.
I found that pretty interesting, but I also learned something else that caught my attention - ring-spun cotton is what many retail establishments sell. It's because these stores want their customers to think their shirts are the best thing since sliced bread, making their business the place to go when their customers come back to purchase more.
We offer promotional apparel with both ring-spun and carded open-end cotton, because we like to provide options for all kind of organizations and their respective budgets. However, after experiencing my comfortable Bella + Canvas t-shirts, I am going to throw my two-cents in and recommend you consider a shirt made with ring-spun cotton for your next promotional apparel purchase, like our Canvas Men's Union Heather T-Shirt, our Bella Ladies' Baby Rib V-Neck T-Shirt or our super soft Alternative Unisex Eco Long-Sleeve Zip Hoodie.
Think of it this way - promotional apparel is a great investment because with one purchase, you can give away a product that gets hundreds, maybe thousands of impressions of its lifetime. Why not make it something your recipients are excited to wear again and again? It's more bang for your buck - and more eyeballs on your organization's logo.
Obviously, in my case, it's worked out for Bella + Canvas because I've been watching the clothing pile very carefully for another unwanted, Bella or Canvas t-shirt in my size.