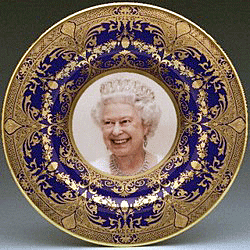 Today is the last day of Queen Elizabeth's 60th anniversary celebration to her accession to the throne of England: the Diamond Jubilee. The Jubilee is a three-day event, taking place from June 2nd to 5th, 2012 and it is filled with festivities including the Queen's attendance at the Epsom Derby, an official luncheon and a pageant.
Our favorite part of this Royal Celebration is the fun promotional products that have been created to commemorate the event. From decorative plates to tote bags, Beefeater magnets and playing cards, if you can think of it, it probably exists with the Queen's face on it. You can even walk the streets in style with head-to-toe Jubilee attire, including promotional sweaters and Queen-themed sunglasses.
Of course, if you aren't a fan of all the Royal fuss, we hope you saved your Royal Wedding Vomit Bag. Cheerio!