Just in case you haven't heard - Prince William of England is marrying his long-time girlfriend Kate Middleton at a modest venue called Westminster Abbey on April 29, 2011.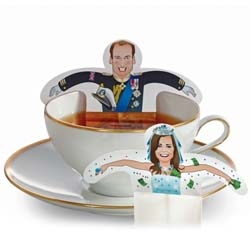 You also may not have noticed the plethora of Royal Wedding promotional products that have swamped the market. The smiles of the couple grace the front of over 3.5 million mugs, multitudes of plates, towels, coins and dolls.
However, the fun doesn't stop there - you can also purchase "Kiss me Kate" beer, cigarette ashtrays, stick-on-nails, toilet seat covers and "KaTEA and William" tea bags that feature cut-outs of the bride and groom lounging in a cup of tea like it's a miniature hot tub.
The Centre for Retail Research predicts that the royal wedding promotional product sales will near a whopping £200 million ($325 million).
Don't worry, if you're sick of hearing about the upcoming sovereign nuptials, you can always purchase a promotional Royal Wedding Vomit Bag. Cheers!