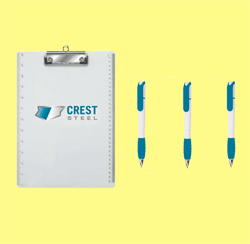 We just received another wonderful thank you note from one of our clients, a leading steel distributor in the Southwest. They partnered with one of our account executives for trade show items and after the show, we received this note:
"Many thanks to Whitney and Leaderpromos for great guidance, ideas and service for our recent trade show. We were very happy with our display materials and our giveaways and the fact that you matched our logo and colors perfectly because that is very important to us," says Maricela, Administrative Assistant. "Thank you for your detailed suggestions and great customer service. Despite my short turn-around times you made it happen!"
We love receiving notes like these! We are happy we were able to help our client and look forward to working with them on their next trade show or promotion. To see actual photos from her event, visit our Facebook page.
Need an idea or some promotional product help? Call your rep or contact us -- give us a chance to make your day, too!