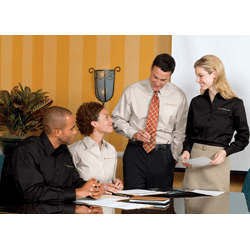 You already save time and money when you order your promotional products and your trade show items through Leaderpromos. Now you can save even more by ordering your print products with us, too.
When it comes to print we do it all! From business cards to stationary, custom packaging to large banners, we are your one-stop-shop for all of your printing needs.
Save Money
Save your organization hundreds or even thousands of dollars a year! By purchasing both your promotional products and your print items from one company you will save money because we can leverage your spend to get deeper discounts and better deals on the items that you need.
Save Time
Your promotional products account representative is also your print contact! Just pick up the phone and call one person for all of your needs, so you can have more time for other projects. (Or for getting off early. It's okay -- we get it!) And don't worry about managing multiple budgets. No matter what division or department calls from your company, your representative will keep your records up-to-date on your sales activity and spend across all divisions in your organization. You can contact us at any time to track and assess your purchases.
Save Your Brand
We already know your company brand and your logo, so you know we'll make sure your print products are up to your standards. Your account executive and our art department will make sure your artwork is printed perfectly!
So, what are you waiting for? Call your account executive or contact us, today!