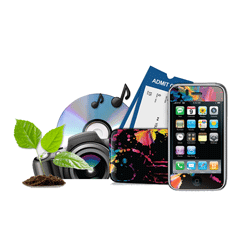 Here's another great way to incentivize your clients and advertise your brand - Digital Rewards. With our Digital Rewards, you can target your audience by placing a reward code on cards, promotional items, product packaging and print products, and your clients can redeem them for music downloads, movie tickets, photo prints, magazine subscriptions and more.
You can create incentives that cater to any region, demographic or customer profile. Plus, (like we talked about in our related post Gettin' Tech-y with It: Five Fresh Ideas for Computers, Tablets and Cell Phones!), your clients are tuned into their electronic devices all day, so it's easy for them to redeem their gift and digitally interact with your brand, right away.
But don't take our word for it! You can hear it right from one of our great clients, Katherine, at TalentWise:
"The digital reward cards have been a huge hit at a number of different events we've invested in! This product is perfectly aligned with our company's message, which centers around provisioning customers with our products and services in an on-demand, paperless, one-step fashion," Katherine says. "We pride ourselves in being a technology-driven service provider and the digital reward cards paralleled our message in a unique way, and actually gave attendees something they really wanted (movie tickets)."

"We coupled the launch of our road show program and the usage of these cards during the time frame of a highly anticipated flick premiere, so attendees were more likely to engage with us to receive one," she adds. "A very clever concept that definitely increased the number of attendees we captured and engaged."
If Digital Rewards sound like a promotion that suits your needs, then call your account executive or contact us for more details!