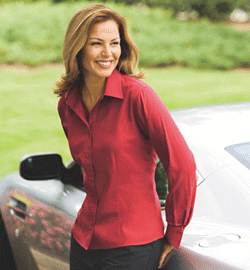 When it comes to standing out from your competition, it's all about differentiation. Often times, this is when the details come into play, including how you and your team look, or the quality of the giveaways you pass out.
Consider investing in brand-name apparel, like our Ladies' Cutter & Buck Long-Sleeve Classic Nailshead Shirts, our OGIO O-boy Polo or our Bella Ladies' Kimberley Sheer Rib Shirt. This high-end apparel helps your company stand out from the crowd with flattering fits, quality fabrics and detailed embellishments. In addition, most labeled apparel comes in a variety of colors and patterns, which can bring attention to your brand by drawing eyes to your logo.
Also, brand name apparel often comes with smart features, such as moisture-wicking performance wear or easy-care features, like wrinkle, shrink and stain-resistance, which contribute to the graceful ageing and longevity of your promotional garments. And since the weaves are tighter and the fabric more refined, these apparel pieces are softer and more comfortable, which will make the recipient want to wear it more often.
Work with your marketing and trade show team to decide when using brand-name apparel will make a big impact on your advertising and sales efforts. By choosing the right piece, your purchase will generate multiple impressions over time as your recipients wear it again and again. Check out our online selection of Nike, adidas and OGIO apparel or call your representative or contact us for more brand-name options!