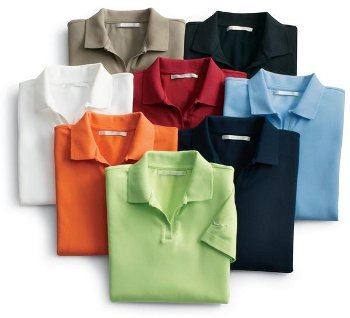 Think that performance wear is only for athletes? Think again. The same fabric that regulates the body temperature of a professional athlete can also help when fighting climate fluctuations in the office or out in the field.
So, how does it work? It's pretty simple--the fabric moves moisture away from the skin and transfers it to the surface. That process is called a 'moisture management system'.
The clothing is weaved together in cross-sections to allow air to flow through the fabric, based on body temperature. If it senses sweat, it will 'wick' the perspiration away.
Thanks to advances in technology, this new material is soft, comfortable and stylish. In fact, the craftsmanship has advanced so much that to the untrained eye, there is little difference between performance wear and regular retail clothing. No one but you will know about your high-tech attire!
Manufacturers are now creating promotional men's and women's wear that are cut to fit and fashion forward. This fabric is not only available in corporate apparel, but in logo outerwear as well.
So if you're looking to outfit your staff or customers in something that's comfortable, contemporary and offers the benefits of athletic clothing technology to everyone (even the non-athletes), check out our complete line of performance apparel or browse some of our top-selling items below.