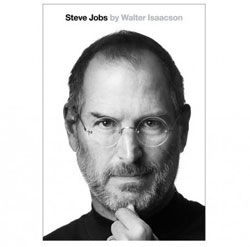 Great news for fans of Apple, Inc. - we have added Walter Isaacson's new book Steve Jobs - A Biography to our selection of over 3 million customizable titles.
Granted with unprecedented access to the notoriously private Jobs, author Walter Isaacson conducted over forty interviews with the innovator over a period of two years. He also interviewed more than a hundred family members, friends, co-workers, colleagues and competitors to flesh out an intimate look at the life and personality of an intense, intelligent and complicated entrepreneur whose passion and drive revolutionized the world of technology.
Jobs' inspiring story will resonate with your employees and clients, making this book one that they will keep, read and discuss with friends. Impress and please your recipients by using it as a holiday gift or a handout at conference or sales meetings.
Steve Jobs - A Biography can be personalized with a cover imprint, a promo page, a belly band wrap or a custom book jacket that showcases your logo and create the perfect memorable giveaway or leave-behind for your customers.
Best of all, this book is available for a limited time at special pricing.
Interested in learning more? Then check out our feature on customized books, call your representative or contact us today for more details!