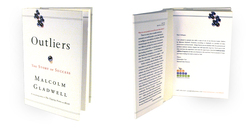 Receiving a paper book as a gift instead of an e-book is like opening a handwritten card instead of an email. It's special and memorable.
Also, giving a book as a gift is personal. It conveys something about ourselves, our interests and our wishes for the future.
If you or your organization is considering giving a book as a gift, then utilize our custom book program. Simply select a title from our catalog of over 3 million books and personalize it in one of the following ways:
Place an imprint on the cover
Depending on the cover space of the book you choose, you also have the option of adding a message.
Promo page
A Promo-Page is a custom page that is inserted and glued into your book's first or second page and provides space for a logo, a detailed message, a personal note, full-color photographs, advertisements, contact information or more.
The picture to the right of this article is an example of a Promo-Page we did for our Leaderpromos Partners (formerly Affiliate) Program. We gave our new Partners a copy of one of our favorite books and included a personal letter from our national Sales Director on the inside front page. It was a great choice - the gift was well-received!
Belly band wrap
A Belly-Band is a one-sided, printed paper band that wraps around a book and secures in the back. It is completely customizable and provides a space for your logo, a message and full-color art.
Custom book jacket
Customize almost any hardcover book with your brand! Create your own unique book jacket with full-color artwork on the front cover, the back cover and a personal message or letter on the inside jacket flaps.
Feeling bookish after reading this? Then contact us for some more ideas and we'll set you up!