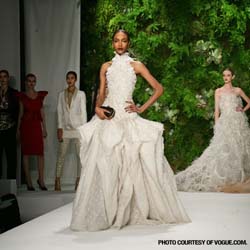 In January, we posted about our interest in Runway to Green, a non-profit organization that brings together some of the world's most influential fashion designers to help raise awareness and funds for the environment. On March 29, 2011, the project kicked off with a runway show featuring clothing from 29 top-tier designers and models styled by the editors of American Vogue.
The show attracted luminaries such Master of Ceremonies Seth Meyers, surprise musical performer Nicki Minaj (dressed as an eccentric, eco-friendly Bride of Frankenstein), actress Diane Kruger and philanthropist Lauren Bush.
To date, the project has raised $1.26 million for the Natural Resources Defense Council's (NRDC) educational program Clean by Design and items are still available for purchase on Net-a-Porter.
We will continue to keep our eyes on this eco-friendly fashion movement. We are curious to see if this top-down initiative will trickle down to the rest of society via other environmentally-friendly and sustainable practices involving raw materials, fabric manufacturing, production and packaging.