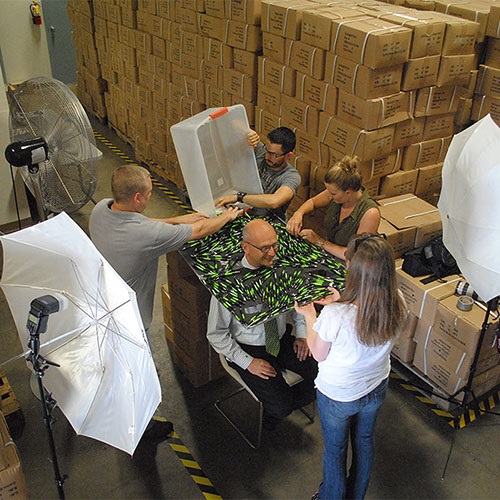 If you're from the Columbus area, you probably have seen one. Maybe you even own one.
Over 14.7 million pens have been given away over the past three years, making them a common sight wherever Huntington Banks are found.
And the program shows no signs of slowing. In fact, area branches continue to hand out a half a million pens each month as part of the bank's ongoing rebranding efforts.
David Clifton, CMO of Huntington Bank, recently stopped by our warehouse for a photo shoot with the Columbus Dispatch amid the 2.5 million pens waiting to be distributed to the company's 700 banking offices in Ohio, Michigan, Indiana, Kentucky, West Virginia and Pennsylvania.
Joel Hoover, Director of Business Development for Leaderpromos, says the relationship is special to Leaderpromos. "We appreciate working with Huntington Bank. They gave us the opportunity to do what we do best - help businesses create a memorable product to share with their customers."
Get the full scoop on the pen program on the Dispatch website. And if your organization needs a pen (or other great giveaway) give us a call!