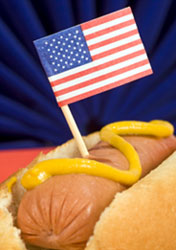 Did you know that approximately 155 million hot dogs are consumed over the July 4th holiday each year?
Leaderpromos will be closed Thursday July 4th and Friday July 5th to celebrate this holiday, and we will most likely partake in the aforementioned tradition.
We look forward to helping you with your promotional product purchases when we open up on July 8th!
We wish you a very happy and healthy 4th of July!