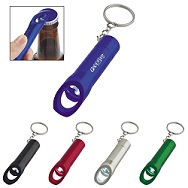 For years my mother has given me mini flashlights. I have one in the car, one by my bed, one on my dog's leash, and one attached to the bottom end of a mini hammer. And, as is often the case, my mother is right about how handy those are! This is why I decided to test out the Aluminum LED Flashlight Keychain with Bottle Opener from HIT.
I was worried that this keychain would seem bulky; instead I found it an unobtrusive addition to my other keys. I used the light for digging through my handbag, looking under my bed in search of a lost earring (found it!), and tracking down a missing pen under the front seat of my car. The bottle opener came in handy on multiple occasions. I even used it to pop an old nail out of the wall when I couldn't find my mini hammer.
Bottom line - this is a useful little tool that promises to be a favorite among your clients. If you're interested in learning more about these keychains, contact one of our sales reps today!
Written by: Buffy Luckman