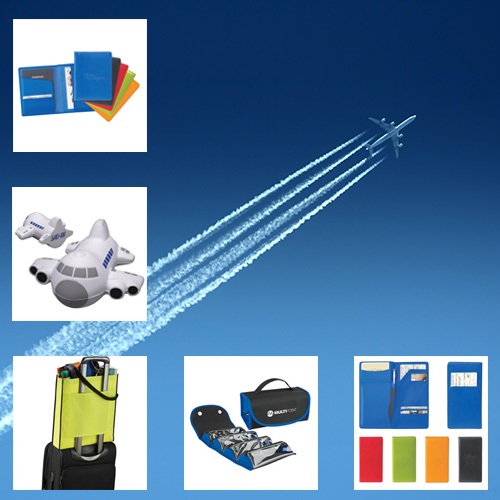 Always on the go? No problem! Here at Leaderpromos we can provide you and your jet-setting clients with all of the right traveling accessories, while keeping up you up-to-date with the hottest trends. Traveling doesn't always have to be a hassle with some of our great promotional travel gear.
Start off with something hot for summer like our Colorplay Leather Travel Wallet, or our Colorplay Leather Travel Organizer. Our Colorplay Wallet has two interior pockets and an interior card slot, and our Colorplay Organizer has four interior pockets, a pen holder, three interior card slots and an exterior slot. Both Organizer and Wallet have a unique debossing decoration on the front. You can choose from basic black, lime green, tangerine, mayan blue and poppy red.
Maybe you are looking for a better way to store all your toiletries. Try our simple, yet chic, Vanity Bag that comes in a variety of colors. Our bag is great for carrying all of your travel amenities, with a zipper closure to prevent messes. It slips seamlessly into a suitcase, but also looks great carried solo!
Perhaps you want something a bit more sophisticated? Then you'll love our Smart-n-Stylin' Travel Case. This case is sure to impress any traveler and is great way to organize all of your products. It includes four individual clear zipper compartments, is compact, easy to roll up, and simple to store. You have a choice of three different colors; bold blue, bright green, and white. Keep it stocked with everything you need, and just grab-and-go when you hit the road!
You can make life a little bit easier with one of our traveling tote bags, like our Chattanooga Convention Tote. Complete with a unique sleeve on the back that attaches to any handle of a suitcase, the Chattanooga Convention Tote works alone or paired with your carry-on! It's available in black, lime green, red, royal blue, and white.
And since travel these days can be a stressful endeavor, keep your clients relaxed with a great promotional gift like one of our Ariel Transportation Themed Stress Relievers. With planes, trains, and automobile stress balls, your client will thank you for relieving their travel woes!
If you're interested in any of these great travel products, take a trip over to your phone and contact a Leaderpromos sales rep today!
Written by: Mary Sheldon