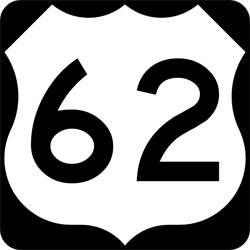 Our headquarters is located in Gahanna, Ohio, on a street called Johnstown Road. This road is actually more than just an anonymous city street - it is actually U.S. Route 62, the only east-west American route to connect Mexico and Canada. It starts at the United States-Mexico border in El Paso, Texas, and ends in Niagara Falls, New York, next to the United States-Canada border.
In addition to being a cross country connection between two countries, the sections of the Ohio-based portion of the road are a part of the state's Byways and a section of it passes by the President William McKinley Tomb in Canton.
Of course, it also passes by the headquarters of your promotional product experts, Leaderpromos.
If you're out and about in U.S. Route 62, swing on by and see us sometime!