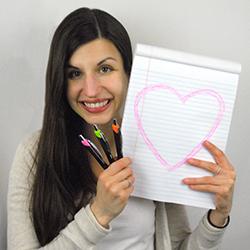 It's no wonder that pens are a staple of the promotional products industry - you all love them. According to the Advertising Specialties Institute, fifty percent of you own a promotional pen and you keep your branded writing utensils for an average of 3.5 years. In addition, promotional pens generate 437 impressions a month, so they're great for advertising your brand.
I decided to test out one of the pens that we carry on our website - the Zebra Z Mulsion EX. I had heard a lot about it, so I decided to see if it was write for me. (Ha, ha.)
Before I get into my review, I have a confession: I am very particular about my writing utensils. So much so, that when I find one that I like, I will use it, consistently, until it breaks, runs out of ink and/or is misplaced. (You'll notice that I didn't list "stolen" as an option. That's because NO ONE gets away with stealing my pens. But I digress.) So, in other words, I have a high standard for pens and I hope my discriminating tastes are helpful to you.
Anyway, did our Zebra Z Mulsion EX pass my writing utensil test? Yes. I like this promotional pen because this item features an attractive design, a comfortable rubber grip and a click-top with a retractable tip. The biggest selling point, useful emulsion ink.
What is emulsion ink? An emulsion is a mixture of two or more liquids that are normally immiscible. In this case, the two immiscible liquids are oil and water, which are (through some magic unknown to us at Leaderpromos) successfully combined with pigment to form the pen's ink.
The result is an ink that dries quickly, doesn't smear (a great feature for left-handers) and glides over the paper with little drag.
In addition, this type of ink produces brilliant colors. In addition to the typical black, blue and red, the Zebra Z Mulsion EX comes in fun and vibrant apple green, orange and pink ink - great for anyone who wants to match their brand's color to their promotional pen. The colored ink is bright and easy to see on paper. (Also, if you get several of these pens, you can create some intricate, multi-colored doodles during business meetings. Not that I would do any such thing.)
In conclusion, this smooth-writing, smudgeless ink pen is a winning product. I'm willing to bet that your clients and employees will love it as much as I do and will keep your branded pen with them at all times. Check it out for yourself! Call your account executive or contact us for a sample.