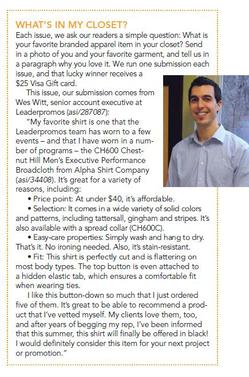 Our very own Senior Account Executive Wes Witt was featured this month in Wearables Magazine's monthly What's in my Closet? section.
In the feature, Witt talked about his favorite piece of apparel - the Chestnut Hill Men's Performance Broadcloth Shirt.
"My favorite shirt is one that the Leaderpromos team has worn to a few events - and that I have in a number of programs," Witt said. "It's great for a variety of reasons, including an affordable price point and its wide selection of solid colors and patterns. I also like it because it's an easy-care shirt and it fits well. You know it's a good product because I just ordered five of them for myself!"
In addition to button-downs, this dress shirt also comes in a Men's Spread Collar and a Ladies' Performance Broadcloth Shirt.
Congratulations Mr. Witt!
Find out how this shirt can fit into your promotional apparel program by calling your account executive or contacting us.