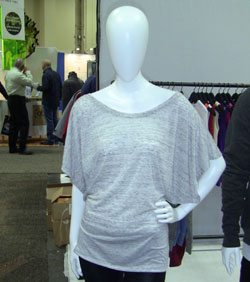 If you're searching for new products and ideas to keep your promotional product campaigns fresh and eye-catching, then you're in the right place!
For the past few months, we've been talking to our business partners and exploring our industry's trade shows, collecting information on brand-new items, updated classics and timeless favorites, just for you.
So, let's get started! Here's our guide to what's trending in the promotional product industry for 2013.
Mobile Accessories
In 2012, we emphasized Hi-Tech Accessories as a category to watch and it's still at the top of our list because of the increased integration of mobile devices - i.e. smart phones and tablets - into your clients' everyday life.
For example, tablets have are gone from being a premium item to a commonplace accessory. In 2013, tablet sales are expected to overtake PC sales. Our industry has responded by producing promotional products to complement your clients' mobile-enhanced lifestyles, such as tablet recharger stations, portable power banks and wireless accessories, like Bluetooth speakers.
Tech Gear
Speaking of accessories for your phones and tablets, how are your customers going to carry all of their expensive tech toys around and keep them safe from harm? Enter the next top trend for 2013: Tech Gear.
We've seen a plethora of tech accessories designed to complement your clients' mobile lifestyle and keep mobile devices safe from harm and easily accessible. These promotional products ranged from large, padded backpacks and work totes to small, fashionable clutches, and tablet covers, some in solid colors, and others with detailed imprints.
There are also a variety of tech accessories, such as pen/stylus combos, creative USBs and other less practical, (but fun), items like the oh-so popular Ring Dingy and the Beat Bottle.
Photo-Quality Printing
Our next hot trend is logo imprinting and design -- and its growth has been fueled by technological advances. Last year, the big imprint development was the ability to add full-color logos - easily and inexpensively - to your promotional products. This year, the industry has taken it one step further by taking full-color imprinting to the next level - you can now print full color photographs on select promotional items. It's a great way to stand out from the crowd!
Women's Apparel
Sometimes, promotional women's apparel is just like promotional men's apparel - just smaller. Unfortunately, women are not simply smaller versions of men - their bodies are different and great apparel is cut to fit their shapes. In addition, many women prefer apparel that looks and feels like retail clothing.
Luckily, the industry is catching on and producing cut-to-fit and fashionable apparel that appeals to women - like corporate apparel with feminine flair, trendy flowing tops and alternatives to the traditional golf polo. Also, some of the items can be decorated in non-conventional screen-printing and embroidery areas - like on the sleeve or on the locker tag - because some women don't like the idea of placing a very prominent logo on, well, their chests. Now, you have more options to choose from when you're outfitting your female clients or employees.
Need more details or ideas? Check out photos from our industry's largest trade show and see the items from the New Product Showcase and the Trade Show Floor for more new and exciting promotional products for 2013 or simply contact us.