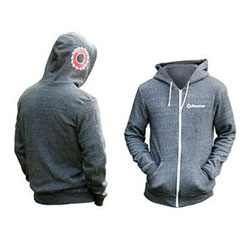 We're happy to announce that our Senior Account Executive Clay Bridges was recognized in Wearables Magazine's Apparel Design Awards. Bridges was the first runner-up in the Best Eco Product Category for a decorated sustainable Alternative Apparel Eco-Fleece hoodie.
Partially constructed of recycled and organic materials, the piece was screen-printed in two areas -- on the left chest, a standard imprint area, and on the hood, a non-standard decoration area.
"Eco-conscience clients are always looking for new ideas and when you change up the imprint options by offering non-standard location it changes everything," Bridges says. "It was an honor to see that Wearables recognized our creative work for my client."
Congratulations Clay!
Need an eco-friendly idea for your company? Contact us and get your own custom solution!