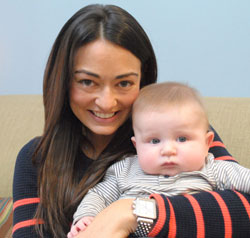 We are proud to announce that our very own account executive, Jaime Goldach, was nominated for the 2013 Advantages Magazine Sales Rep of the Year award. (Advantages is published by one of our industry trade organizations, the Advertising Specialty Institute.)
Out of hundreds of applicants, Goldach ended up in the top three and was featured on the cover of the January issue.
"Our runners-up this year were also ideal candidates, not only in our opinions, but in the opinions of those who work with them on a daily basis," said Kathy Huston, Advantages Editor.
We were proud to nominate Goldach. She consistently exceeds her clients' expectations and repeatedly went above and beyond to meet their needs -- all in a year when she became pregnant with her first-born and took a three-month maternity leave to care for her baby.
"My nomination came as a complete surprise," Goldach said. "I am grateful for this honor and for the support of my great co-workers and clients!"
Read more about her accomplishments and sales philosophy in the Advantages article.
We appreciate and admire Jaime Goldach's drive to succeed! Congratulations and thank you for being a part of our team!