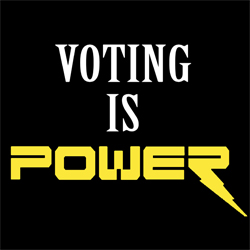 During the election for President of Ohio (or so it seemed), candidates from all parties made frequent stops in the Buckeye State to woo the hands of voters.
Many local businesses and organizations got in on the excitement, including our client, local radio station Power 107.5. They decided to run a "Voting is Power" marketing campaign and came to us for promotional t-shirts.
Soon, our tees were making the rounds outside of an early voting location and at a political rally in downtown Columbus that featured President Obama, rapper Jay-Z, musician Bruce Springsteen and Columbus Mayor Michael Coleman. Best of all, Power 107.5 caught it all on video!
Our client said the shirts were a hit. The tees not only encouraged everyone to vote, but they also did a great job of promoting the radio station - making the imprinted apparel a "win" for everyone.
Take a minute to watch the video or view our Facebook album to see our tees in action!