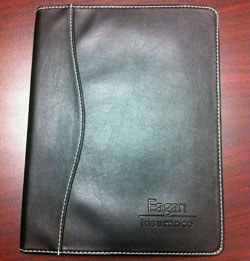 "I want to tell you how pleased we have been with the merchandise we received from Leaderpromos." These were the opening lines of an email we received from a client, a large, independent, family-owned insurance agency. Our relationship began with a need for corporate gifts.
"Our president, Marc, had a few specific ideas for gifts...I was lucky enough to find your company and your account executive Jaime. Jaime immediately forwarded me several ideas that hit upon exactly what I was hoping to find (in less than five minutes, I might add), and we ordered some wine carriers, which were very well received," said Terry, Print and Media Manager.
Jaime and Terry stayed in touch and soon, our client had a new need.
"Marc showed me a leather padfolio a few weeks ago and asked me to find something 'just like this,' I immediately contacted Jaime who found an exact match to the item I had." Terry explained. "We received the journals and they are absolutely perfect."
"Not only did Jaime help us so quickly and professionally, but she also sent me several alternatives, in case I preferred a different item. She is a joy to deal with, personally and professionally. We are extremely happy with the products and service we received from Leaderpromos."
Thank you Terry! We are grateful for your business and we look forward to working with you, again.
Need your own corporate gift or idea? Contact us, we can help!