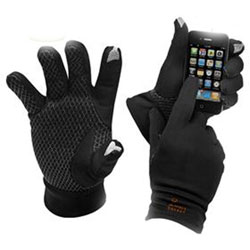 What's not to like about our Isotoner Smartouch Gloves? They keep your digits warm while you're punching digits on your phone and they feature water-repellent fabric, a soft, stretchy fleece interior and silicone grips on the palms and fingers.
They're compatible with most touchscreens devices including iPhones, iPads, iPod Touch, Android phones, Blackberries, e-readers, ATMs and GPS devices.
Our gloves are useful, unique and the perfect place to display your organization's logo!