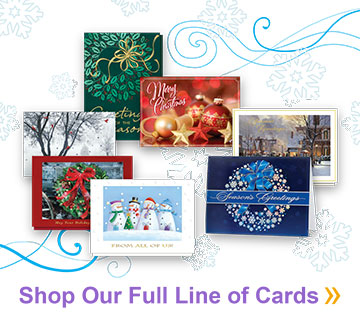 Did you miss October's early bird discount on holiday cards? Don't worry, there's still time to earn a generous 25% off! Simply place your order by December 8, 2012.
Plus, you still get all of our perks:
Free Samples: We don't want you to like your choice; we want you to love it! Browse through our online card catalog and order samples of the ones you want to see in person.
Free Personalization: We'll print your verse, message and envelopes at no cost - all you have to do is pick the color. Choose from red, green, blue, black or burgundy ink.
Signature Imprinting: Save some time (and wear-and-tear on your wrists) by utilizing our free signature imprinting service.
Free Foil Imprinting: On select cards, top off your greetings with festive free foil imprinting.
Folding Services: Most holiday cards can be pre-folded, saving you time and effort. Just ask for details!
Self-Seal Envelopes: Order our easy-to-use self-seal envelopes to package your cards with ease. Available with gold or silver foil lining.
Get started now by browsing our Holiday Card Catalog, calling your account executive or contacting us. Happy holiday shopping!