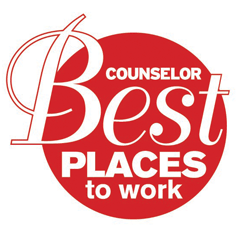 We are excited and pleased to announce that we've been named one of the "Best Places to Work" by Counselor Magazine. Over 4,000 employees all over the nation completed a survey that ranked their organizations in 10 different areas, including team effectiveness, employee loyalty, trust among co-workers and manager effectiveness. Leaderpromos was ranked #58 out of the top 85 finalists.
"This award affirms our strong values and positive culture and is a testament to our hard-working team," says Stephanie Leader, President and C.E.O. "It's an honor to have our employees publicly declare their passion for Leaderpromos."
The list was revealed in the September 2012 edition of the Advertising Specialty Institute's Counselor Magazine, the "voice" of the promotional products industry.
Want to join our winning team? Then check out our career opportunities at Leaderpromos.