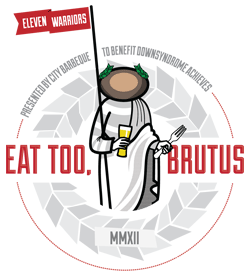 Plan on tailgating at The Shoe this October 6th, 2012? Of course you do! So, grab your friends and make your way over to the 3rd Annual Eleven Warriors Eat Too, Brutus fundraiser for DownSyndrome Achieves.
With beer from Oval Brewing, food from City Barbeque and a stocked raffle, there's no reason you shouldn't be there. (Especially since 100% of the proceeds go directly to charity.)
No excuses. Be there. Also, you'll have a chance to meet Account Executive Andrew, an Urban Legend Donor, and get some Eleven-Warriors-branded swag from Leaderpromos.
Visit Eleven Warriors to get your ticket and we will see you Saturday!