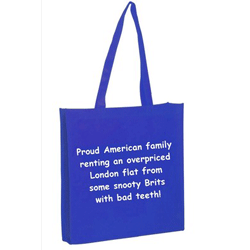 The United States of America and Great Britain are at war again - this time with sassy tote bags.
A British retailer fired the first shot with an Olympic bag that read "I'm Renting My Flat to a Fat American Family," and an American company countered with their own version, which read "Proud American family renting an overpriced London flat from some snooty Brits with bad teeth!"
The good-humored tote-off is expected to continue until the end of the Games, with a portion of proceeds going to charity.