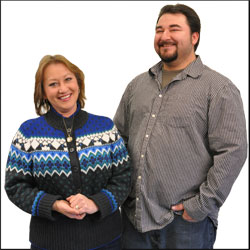 If asked, most of us will say we love our family, but do we like them enough to work with them every day? We have two that do -- our mother and son embroidery team of Fran Buckler and Shaun Conrad.
Between the two of them, they have more than 15 years of embroidery and warehouse experience, and together oversee the monthly decoration of more than 4,500 hats, jackets, bags, shirts and more, through our Rapid Logo program. This program allows our corporate online stores to stock a broad selection of apparel at our warehouse without accumulating unnecessary inventory costs.
"I like working in embroidery and warehousing because it's busy and fast-paced! It keeps me on my toes - literally," Buckler says. "I got Shaun into the business and he joined me while he was in his 20s, so he could learn important skills in preparation for his 'next' job. Little did I know, almost a decade later, he would be married, have a family and still be working by my side. We make a great team."
Fran, Shaun and the rest of our experienced team will ensure that your purchase is embroidered and handled with the utmost of care, and will triple-check it for accuracy before it is shipped. After all, no one will take better care of you than family!