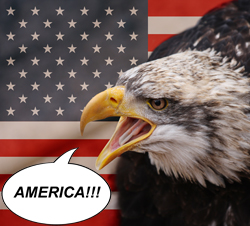 Unless you've been living under a rock for the past week, we're sure you've heard all of Washington's magniloquence over our Olympic team's uniforms and their Chinese origins. (Hey USOC! We'd be happy to make the 2014 uniforms! Call us! Maybe?)
Whether you're on the side of good ol' Team U.S.A. or are a stalwart supporter of a global trade economy, here's something we can all get behind: the benefits of American-made products, including shorter delivery times and reliable safety and compliance measures.
Check out our selection of our competitively-priced, home-grown United-Statesian promotional products, and if you need more patriotic ideas, simply call your account executive or contact us.
Our Yankee SPF 15 chap lip balm features Vitamin E, aloe vera and is FDA-approved and PABA free. It's available in 12 flavors, (but only one scent - freedom), and your choice of a clear, metallic or white wrap for the barrel.

The Iceberg Tumbler with Straw

"Leaderpromos' recycled 16-oz. USA-made double-wall tumbler with matching press-on lid and straw is CPSIA-certified, pthalate-free, non-toxic and lead-free. I've carried mine from sea to shining sea."


- George Washington

16 oz. Exclusive Cafe America Mug

Our Made-in-the-U.S.A. mug isn't glass, it's actually the crystallized sweat of Bald Eagles and it makes all beverages at least 50% more patriotic. (Even LaBatt Blue.)

Anvil American Classic Pocket T-Shirt

Our 100% preshrunk heavyweight pocket tee is made of soft, U.S.-grown cotton and is featured in eight colors. Don't like pockets? Well, thank goodness you're in America, because you have the liberty of choice! See below for a pocket-free option, the Anvil American Classic T-Shirt.

Anvil American Classic T-Shirt

Just like its sibling, our 100% preshrunk heavyweight tee is made of U.S.-grown cotton and is featured in your choice of eight colors, including red, white and blue. Coincidence? We think not!