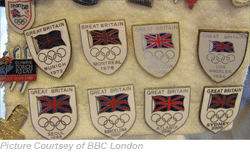 The Olympics are famous for athletics, but behind the scenes another pastime takes place during the Games - Olympic pin trading. Described as the "The Number 1 Spectator Sport at the Olympic Games," amateur and experienced collectors attend the games to gather and trade these decorative promotional pins with fellow aficionados.
Olympic pins made their first appearance in 1896, as small cardboard discs, which were used to identify the athletes, judges and officials. Over the next four games, the pins evolved from paper to ornate metal jewelry and at the 1924 Olympics in Paris, pin-swapping took off as a form of friendship and goodwill between the fans. At the 1984 Los Angeles games, "perhaps 17,000,000 pins in over 1,300 designs" were documented, making the pastime "a major event".
Today, each host city produces a bevy of pins and some collectors come only to trade, not to watch the sporting events. Crossing cultural and language divides, the Olympic pin trade reflects the spirit of the Games by breaking down barriers and connecting people from all over the world.