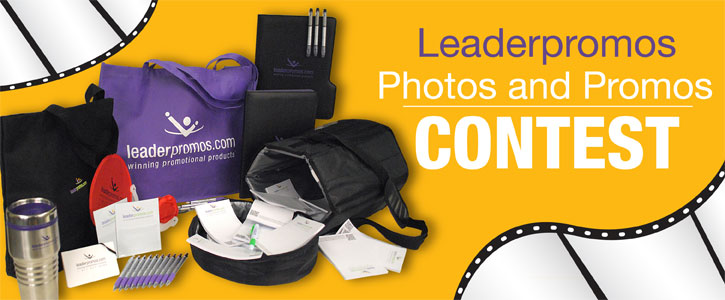 Do you have promotional products from Leaderpromos? Of course you do! Now, use the products you love to win free gifts!
Simply email fun and creative pictures of you and your promotional products to your account executive or send them to our Facebook, Twitter or Google+ and you could win a grand prize pack of Leaderpromos goodies, including our unique Ice Cooler (which holds up to 12 cans and doubles as a portable seat) stuffed with swag, like tote bags, notepads and more.
To enter, submit your photos between now and 5 p.m. EST Friday, July 20, 2012 to enter. From July 23-30, 2012 the best pictures will be presented on a ballot (hosted on our blog and social media pages) for our fans to vote on - if your photo gets the most votes, you win!
No limit on submissions! Please see our contest rules for all of the details.
Don't let someone else walk off with your prizes - post your entry today! We look forward to seeing your photos and promos.
The Rules:
No limit on photo entries!
Yes, you can have more than one Leaderpromos product in your picture.
Yes, you can have yourself, co-workers, friends, family, pets, inanimate objects, etc in the photos.
Please note your business or organization when posting your photos so we know how to identify you.
Comments and interactions on our page must follow the Terms of Service listed under our Facebook Information tab. (In other words - don't post anything you couldn't show your grandma!)
The Prizes:
See the photo above for an idea of what you can win. We didn't display everything -- we want some of it to be a surprise!
Timeline:
Photo submissions: Monday, July 2, 2012 to 5 p.m. EST Friday, July 20, 2012
Voting: From when the selected photos are posted on Monday, July 23, 2012 to Monday, July 30, 2012 at 5 p.m. EST
Winner Announced: By 1 p.m. EST Wednesday, July 31, 2012. In the event of a tie, we will have a face-off between the tied photos.
Some Legal Jibber Jabber:
We respect your privacy! We will not sell or pass along your information to 3rd parties.
By submitting your photos, you give Leaderpromos permission to use them in contest-related promotions.
This promotion is in no way sponsored or endorsed by our social media channels, i.e. Facebook, Twitter and Google+.
Questions? Contact your account executive, post or tweet at us online or contact us. Thanks and we look forward to seeing your photos and promos!
Cheers,
Your Leaderpromos Team