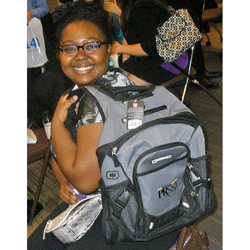 We are partnered with our neighbors (and client!), the Ohio Dominican University and their PRSSA Chapter. Through our partnership, we facilitate educational tours, train student interns and support campus events.
This year, we had an opportunity to sponsor the 2012 Central Ohio PaRtners Conference, which is an event focused on professional development for public relations and marketing students. We donated one of our favorite OGIO backpacks embroidered with the Ohio Dominican University PRSSA logo for a raffle, and as promised, we'd like to show off the winner, incoming ODU PRSSA Vice President, Tonnisha English.
"It was great having a Leaderpromos as one of our conference sponsors. Knowing that a local business supports the future of this industry means a lot to the students from Ohio Dominican PRSSA!" says Allizon Munoz, senior and president of ODU PRSSA. "Leaderpromos was generous enough to provide us with a quality backpack and custom ODU PRSSA logo, something each one of our members wanted to sport around campus."
In addition, we would like to congratulate Munoz, a Leaderpromos internship alumna, on winning the Central Ohio PRSA Award of Excellence for Outstanding Graduate. We're very proud of her!