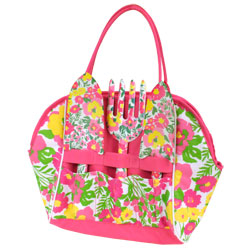 All of our custom-made products are unique, especially our latest - a floral-printed garden set! Also, this gift was special in another way - only 3,800 were made, making this Mother's Day GWP truly one-of-a-kind for a client that is treasured for its iconic, lifestyle brand.
No detail was spared for this promotion - our bag featured our client's beautiful new print for Summer 2012, durable 600D poly fabric, sturdy foam inserts, piping for structure, a back mesh pocket, an interior clip and three garden tools.
The gift embodied the playful femininity of our client's brand without being dainty - with both form and function, our garden set was both pretty and utilitarian.
Need a fresh, distinctive gift that represents your organization? Then contact us - we'll make sure your promotion blossoms into a product that's memorable!