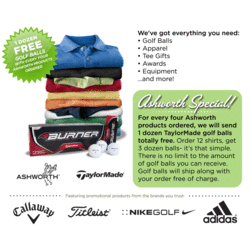 Forget the winter holidays, the most wondrous time of the year is golf season! And to prepare you for your days out on the course, we've got a great deal that features two top golf brands - Ashworth and TaylorMade. For every four Ashworth products ordered, you will receive one dozen TaylorMade golf balls absolutely free. Order 12 shirts, get three dozen balls - it's that simple!
There is no limit to the amount of golf balls you can receive and they will ship along with your order, free of charge. It's a great deal - you and your team will look great on and off the course, and you'll always have enough balls to share with those unfortunate golfers that always seem to end up in the rough. (Because we know you won't need them!) Limited time only - call your account executive or contact us for details.
In addition, be sure to check out our full selection of golf promotional items section for more great ideas for your next tournament or outing. From brand name golf items from Callaway, Nike, adidas and more, to imprinted divot repair tools, custom golf towels, umbrellas and shoe bags, we've got you covered.