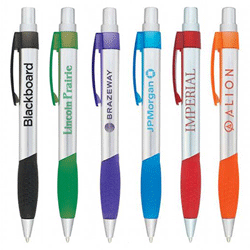 If you are looking for a pen that will leave a lasting impression, look no further! Our new ColorReveal Smithfield Click Pen features the newest innovative decoration technique.
Laser technology is used to produce a permanent, three-dimensional reproduction of your logo on the barrel of the pen. Using this technique, even the most detailed artwork appears clearly.
We have used the Smithfield in our office and love the way it writes; smoothly and flawlessly. Best of all, this great pen is on sale for a limited time. Call your sale rep or contact us to get your hands on this great deal.
Looking for other innovative pens? Check out our Top Pen Picks.