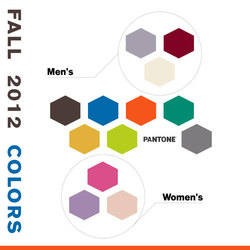 According to Pantone our palette for Fall 2012 is an "unexpected mix of darks, brights and neutrals, These colors cleverly manipulate reality to transport consumers to an enchanting place, free from the stresses of everyday life." The Fall 2012 palette reminds us of the budding flowers of spring, yet still offers neutrals for those less daring individuals. In other words, there is something for everyone this upcoming season.
For the women, we see bold feisty hues, simplistic neutrals, and retro pinks and oranges.
For the men, it's vibrant, deep pungent hues and bright blues and greens perfect for winter apparel.
We love the blending of bold and muted hues the industry is taking for the end of this year. If your organization is looking for promotional products that are "colorfully" trendy this Fall, call your sales rep or contact us for ideas.