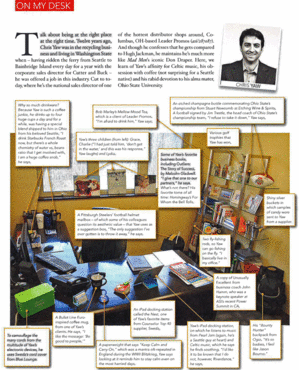 Actually, that's not entirely true -- our National Sales Director Christopher Yaw wasn't profiled in a magazine, but his desk was! Yaw, who leads our Partners Program, had his office featured in the On My Desk section of the bi-monthly promotional product industry magazine, Supplier Global Resource.
"That hardest part was actually finding the time to step away from my desk long enough for our photographer to get a picture," Yaw laughs. "Eventually, we got it done. It was flattering and fun to get my office and my desk accessories "profiled" in the magazine. I'm definitely looking forward to showing it to my kids."
The photograph features several promotional accessories (yes, we use them, too!), including our BlueLounge Nest, our Mini BlueLounge CableBox and our 16 oz. Stainless Steel Tri-Roll Travel Mug.
To see the article, simply click to enlarge the top right picture. (Also, we'd like to confirm that yes, Yaw really is addicted to coffee does have up to eight promotional tumblers on his desk at one time.)