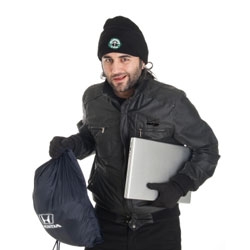 The stats are in! According to the Advertising Specialty Institute's latest study, An Analysis of Channel Belief vs. Customer Needs, promotional products are being "stolen". But who are the culprits? Well, it's you! Yes, you heard us, you are stealing promotional products from your friends, family, workplaces and even businesses or organizations that you frequent. (You really like promotional items, don't you?) So, who are the biggest offenders?
Overwhelmingly, men are stealing more promotional products than women. (For shame, gentlemen.) And what are the men pilfering? Well, apparently they're adding to their wardrobes by snagging promotional shirts (10.3 percent of men spirit these away while only 7.6 percent of women do), promotional hats (11.4 percent of men vs. 2 percent of women) and - no joke - logoed bags and totes (10.9 percent of men vs. 4.8 percent of women). (What we'll never know: How they did it. Are they stealing the promotional shirts off someone's back or removing embroidered caps off of heads? It's a mystery!)
In addition, men are also looting promotional mugs (11.7 percent vs. 6.7 percent of women) and corporate gifts, like stress relievers and branded desktop items, at almost quadruple the rate of women. (13.6 percent vs. 4.2 of women).
Now, most of the focus here has been on the thievery of the men, but ladies you aren't entirely without fault. Women take the lead in one category - the kidnapping of promotional calendars! That's right ladies! You are nearly two times more likely to steal a logoed calendar than men are (20 percent of women vs. 11.7 percent of men). You know what else women like? Promotional pens. Yup, you take those, too. (34.5 percent of women vs. 25.8 percent of men.)
In fact, imprinted pens are the most often stolen promotional item - with 32 percent of all men and women admitting to this crime.
So, how can you use this information to your advantage? Well, with the exception of chaining your promotional products to your desk, there's not much you can do to prevent this - so, if you can't beat them, why not join them? Choose a great promotional product, imprinted with your organization's logo that folks will want to steal! That way, (whether it's spirited away or not), you can ensure that you get a great return on your advertising investment. We all know that promotional products have a long life, let's make sure it's a full one, as well.
Need help deciding on a burglary-worthy promotional item? Then call your rep or contact us. We'd be more than happy to help!