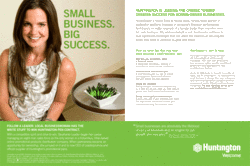 We're excited to share that our President and CEO, Stephanie Leader, was featured in an advertising campaign for the 24th largest bank in the nation, The Huntington National Bank. The print ad, targeted at small, diverse and women-owned businesses, highlights our company's relationship with the bank - Huntington supplied us with the credit we needed to grow and now we supply them with their promotional products.
"As a valued customer and woman-owned, small business supplier to Huntington, Leaderpromos was the ideal success story and partner to highlight", says Traci Dunn, Senior Vice President and Inclusion Director of Huntington Bank.
We're happy to see our mutually beneficial partnership profiled, because relationships are of utmost importance to our organization - and this advertising campaign drives that point home.
The advertisement appeared in The Women's Book, a publication focused on diverse, women-owned businesses and non-profits in the Cleveland, Cincinnati and Central Ohio areas.