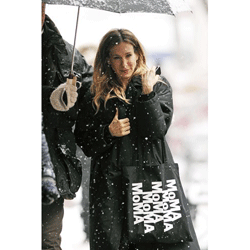 This just in - promotional tote bags are replacing stylish (and expensive) brand-name handbags on the arms of trendy affluents and celebrities, such as actress Sarah Jessica Parker.
According to the New York Times article A Message on Every Arm, the "seemingly democratic and certainly affordable (if not free), the tote might be the ideal carryall for these post-luxury recessionary times. The tote's status is stealth. It telegraphs not money but access, ethics [and] culture..."
So, in other words, people want to carry a promotional tote that broadcasts their association with a brand that "represents" their interests, taste and social status. And, in a time where extravagant shows of wealth are frowned upon, the (usually) free promotional bag is the perfect and tasteful way to do it!
We can help you make sure your promotional tote bag gets the same attention and affection as the ones mentioned in the article. Simply call your rep or contact us and we'll help you choose the right item out of our wide selection of promotional bags and totes. After we pick your product, we'll work hand-in-hand with you to make sure your logo is represented in a creative and on-brand way. In no time, you'll have a unique and fun promotional tote back that everyone will want to display on their shoulder!