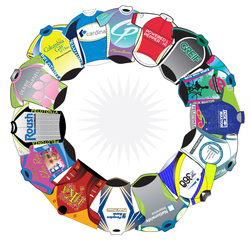 This year we had the opportunity to work with Pelotonia, a Columbus-based grass roots bike tour with one goal: to end cancer. 100% of every dollar raised by Pelotonia's participants goes directly to fund research at The Ohio State University Comprehensive Cancer Center. In the two years since the annual event started, riders have raised more than $12.3 million.
Being participants and volunteers ourselves, we were more than happy to partner with over ten teams - from Donatos to Nationwide - to design and create jerseys and other promotional apparel items for the ride. However, not all of our clients were corporate, we also worked with passionate individuals who recruited and organized teams to honor a loved one stricken with cancer. Although the personal stories accompanying the work we did for the jerseys were sometimes heartbreaking, in the end, we finished all of our Pelotonia projects with a sense of hope.
In light of the hard work and training our clients did for the race, we'd like to share their jerseys and apparel designs - some of which traveled the full 180 miles from Columbus to Athens, Ohio and back.
We look forward to working with this great non-profit again next year.