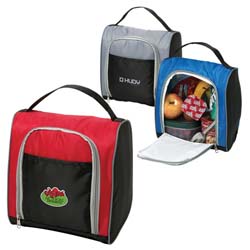 Since we're in the promotional product business, we're always transporting samples in and out of the building to our clients - and occasionally, we'll have extras. We decided to put these surplus items to use by keeping, using and reviewing these promotional products for you. Since mid-June, I've have been using one of the products we carry on our site - the aptly named Lunch Tote.
I've used the red tote shown in the picture for about three months to bring my lunch to and from the Leaderpromos headquarters during the workweek. I like that the front- zip access makes it easy to pack items easily and tightly, especially since I keep the Lunch Tote in my trunk during my 20 minute commute. If it rolls around, I don't have to worry about any containers wiggling themselves open because they have the space to move.
The tote kept my food cold, even after several hours in the car's trunk on a 90 degree day. However, I'm very proactive when it comes to food safety (thanks Mom, since I know you're going to be reading this) so I did make sure to pack it with two large ice packs beforehand.
At first, I was a little concerned about the white interior but (so far) all spills have wiped off. (Also, I realized if the interior wasn't white, I wouldn't be able to see the spills in the first place!) In fact, whole tote (interior and exterior) is easy to wipe clean.
Additionally, I've abused the tote quite a bit, but exterior fabric hasn't torn, the colors (including the logo) don't look faded or dingy and it's still retained its shape.
The only thing I didn't have much use for was the front pocket. However, just because I don't use it doesn't mean it wouldn't be useful to someone else. For example: if an organization gave the Lunch Tote away as part of a healthy-eating promotion, they could put brochures inside the front pocket, or if a school gave the totes away for a campaign, whoever packed the child's lunch could place notes or a few dollars in it.
So, the conclusion - consider the Lunch Tote for your next promotional product campaign!
This is the first of many-to-come product reviews - stay tuned to our blog for more feedback.