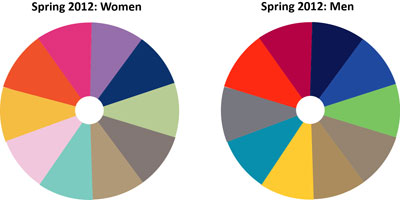 You may think it's too early to plan for spring, but the fashion industry doesn't! It's actually standard practice for the fashion authorities to project trends and showcase apparel and accessories about six months to a year and a half ahead of time. To the average person, this may seem frivolous, but that gives the latest styles from the runways enough time to trickle down to your neighborhood retail store - just in time for your seasonal shopping.
With that in mind, we'd like to share the color forecast for spring 2012:
For women, it's vivid brights, soft muted tones and fun-loving pastels.
For men, we see bright bold colors mixed with warm neutral tones.
We love the optimistically-hued look the industry is taking for the season. If your organization is looking into promotional products that are on-trend for this spring call your account executive or contact us for ideas!