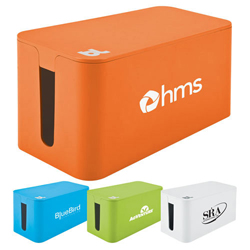 Update 11/13/2014 - This product has changed or is no longer available. Call or contact us for help finding the perfect alternative for you.
Our Mini BlueLounge Cable Box is famous! It's featured on Oprah - but the list doesn't stop there. It's also been on the Nate Berkus Show and in the September 2011 issue of Good Housekeeping, as a tidy and clever way to hide those unattractive cable cords.
And it's no wonder, our Cable Box is the perfect gift for those who want to keep their workspaces neat without sacrificing style. Simply plug your errant wires into the hidden surge protector, tuck them inside, close the lid and voila! Problem solved. The box is fire retardant and available in your choice of orange, blue, green or white.