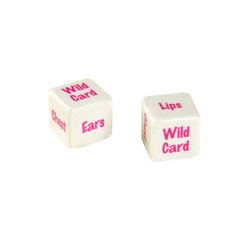 The exciting thing about our industry is that we approached by all different kinds of businesses and organizations for promotional products and ideas. Whether it's a small mom-and-pop restaurant down the street or a Fortune 500 corporation in New York City, we can truly help anyone with their promotional needs. We take pride in the variety and challenges that make our jobs so much fun and keep our creative juices flowing.
A client, one who specialized in intimate products, came to us with one of those fun challenges we look for - they wanted some ideas on how to update a loot bag with a few new "playful" items. After some good-humored banter and brainstorming, we suggested a pair of coquettish dice - and the client was sold. We're now in the process working with them to update the loot bag with a few more products.
It doesn't matter if your business or organization is niche or general, we can help! Call your rep or contact us today for ideas.